Meet the Chef: Deborah VanTrece
Tuesday, October 10, 2023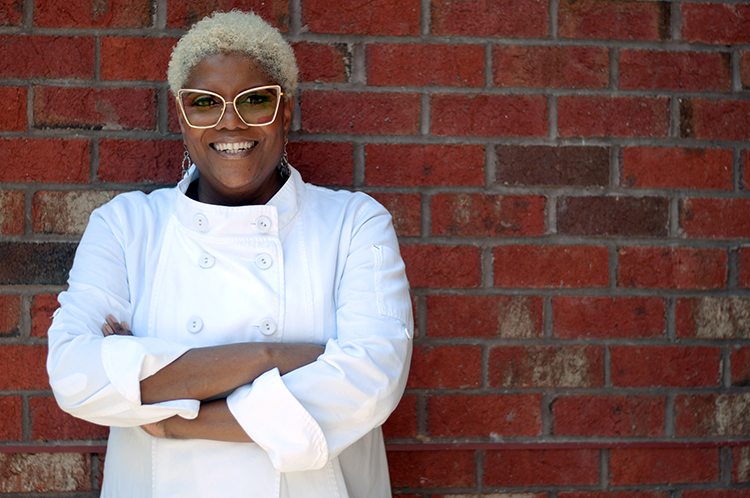 Chef Deborah VanTrece of Twisted Soul Cookhouse & Pours has cooked across the globe. Her travels and experiences spanning twenty-five years have shaped her culinary style in an unmatched way, and you'll taste it in her cooking.
On the G&G menu this week is Chef Deborah's Peruvian Stir Fry, a flavorful take on lomo saltado, a quintessential Peruvian stir fry. As one of Georgia Organics' Farmer Champions, Chef Deborah created this recipe for us in celebration of Georgia Organics' Farmer Champion Week. 20% of proceeds from this meal kit will be donated to Georgia Organics!
We asked Chef Deborah a few questions about her cooking styles and inspirations–read on to learn more.
What got you into the world of cooking?
I got into the culinary field because I had lost my passion for my job. I had always dreamed of being a chef and I saw a culinary school commercial on TV and made the call.
How would you describe your culinary style?
I would describe my culinary style as somewhat eclectic. I love food and traditions that have history, but I have an adventurous, non-traditional approach to global foods of comfort.
How have your world travels and experiences influenced the way you cook?
My world travel and experiences define how I cook. Through travel, I was introduced to a whole world of culinary delights. Markets, grocery stores, restaurants, as well as local homes were key in expanding my knowledge of food and helping me to develop the recipes that I use.
What is the best meal you've ever eaten?
I have had many great meals! The most memorable would be those prepared by my mother as I was growing up. An honorable mention, though, must go to a restaurant that was off the coast of Spain in Nerja. It was an amazing view and equally amazing food.
As one of Georgia Organics' Farmer Champions, what does supporting the local food community meant to you?
Supporting the local food community is not just a choice, it is a responsibility. When we buy local we are not just supporting the local economy but offering our guests the freshest, most flavorful options, while showcasing seasonal ingredients.
What was the one local veggie that stuck out to you this past year as the most delicious?
It's hard to pick just one standout vegetable but I love Vidalia onions and this year they did not disappoint. My other loves include Southern staples like collard greens, and I think Georgia, put the sweet into sweet potatoes.
Tell us about your other restaurants!
La Panarda focuses on traditional Italian Dishes with a Soulful Southern Twist. We love incorporating local and seasonal ingredients to produce unexpected dishes like Collard Green Gnocchi, Grit Arancini with Seafood Cioppino and a new favorite, Sweet Potato Ricotta Zeppole. True to Italian culture we offer each guests a complimentary Spritz of the Day, along with a daily stuzzichini to start the dining experience.
Oreatha's at the Point is an ode to mother's across the globe. We are inspired by the first chefs in most of our lives, our mothers. At Oreatha's you will find comfort foods from around the world, again, utilizing local ingredients and lots of creativity. Each menu item is curated with the best ingredient of all, a Mother's Love. Come by and enjoy our crawfish poutine, Korean Chicken Sandwich or Thai Seasoned Catfish.
What's your number one piece of advice for home chefs?
My advice to home chefs is to play and experiment. Food was meant to enjoy!